2020 has been the year from hell, and few modes of entertainment have been spared the wrath of the COVIDevil.
One particular mode of entertainment that I'm particularly fond of — and that doesn't necessarily fit the scope or aesthetic of this site — is fantasy football. Many players have opted out of the 2020 season for their health.
Right off the bat, I want to acknowledge that I support that decision 100%.
The reduction in talent on the gridiron this season has provided an opportunity for our favorite metahumans to fill in some of the gaps. It is, after all, the year without rules.
QB1: Cameron Hicks – Alphas
Alphas didn't last long, nor did it leave any lasting cultural imprint on the world, but it did give us a guy tailor-made for this list.
Cameron Hicks is hyperkinetic; he can see trajectories of thrown objects before throwing them, optimizing his chances of getting the ball to his receivers and minimizing interceptions.
The former Marine has some athleticism, too. His speed and throwing mechanics should net me some pretty points week to week.
Plus, he has some handsome on him that rivals Jimmy G.
RB1: Aram the Strong/Armstrong from Archer and Armstrong
The immortal Armstrong from Valiant Comics has: 1. thousands of years of combat training (read: the ability to run through a motherfucker's face) and 2. super strength (read: the ability to carry defenders with him all the way to the goal line).
RB2: Ty Lee from Avatar: The Last Airbender
Ty Lee doesn't have the bruising build and power of a guy like Armstrong, but she has unreal agility.
Ty Lee could out-juke or hurdle literally anyone in the NFL right now. She's taking the handoff from Hicks to the house 7 times out of 10.
WR1: Xena from Xena: Warrior Princess
Remember the time Xena snagged an arrow out of the air? Of course you do, because it happened all the time.
Those reflexes — paired with a stiff-arm that would put Stephon Gilmore in the dirt — make her a danger to opposing defenses.
WR2: Star-Lord from Guardians of the Galaxy
We know he's hot-headed in tense situations, but what great receiver isn't?
We also know that he comes up big when it matters, like when he snagged the infinity stone away from Ronan. He won't put up a ton of points from yards after the catch, but in a Points-Per-Reception league, I'll take him over the field.
TE1: Solomon Grundy from the DC Universe
Grundy is 9 feet tall and weighs almost 1,000 pounds. For reference, Tony Gonzalez, the greatest tight end of all time, is 6'5″ and ~250 pounds.
Grundy will be a bruiser on the line and a towering presence in the end zone, making him the go-to option for whomever is flinging the ball in his direction. Grundy-spikes for days.
FLEX: Domino from the Marvel Universe
Domino's ability to influence probability is going to result in highly unlikely and highly profitable plays.
She'd be like the Taysom Hill of any team.
K: Sing from Shaolin Soccer
In Shaolin Soccer, Sing is known as "Mighty Steel Leg" for his booming kicks. Many talented kickers in collegiate football were once soccer stars, including Texas A&M's own Josh Lambo.
In any league where kicks are worth more from farther out, Sing is a goldmine. The dude can probably boot a 70-yarder no problem.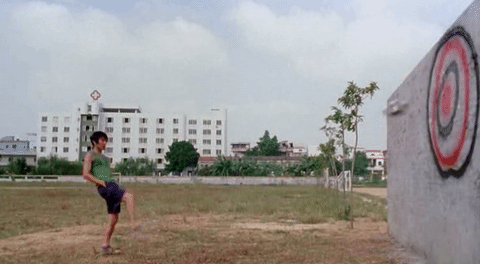 DEF: The Green Lantern Corps from the DC Universe
Few metahuman teams have enough members or variety in size and athleticism to warrant spending a draft pick on them.
However, the Green Lantern corps is massive, so there have to be enough defenders in there somewhere. The beefy Kilowog at defensive end, the rangey Arisia Rrab and Salakk at defensive back.
It really doesn't matter much anyway because I stream defenses and I'm just going to drop them for someone who can duplicate themselves later.